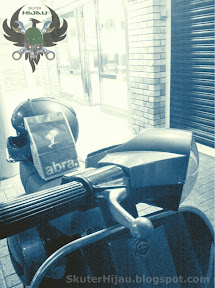 Having owned my Vespa for almost five years or so, I can safely come to the conclusion that the Vespa gets better when things around it get worse.
The scooter laps up emergency road closures, inexplicable new one-way systems, dodgy tragfic lights and even
flash floods
with relative ease. So, when it came to choosing which mode of transport was best (I've got a choice of three these days) to get to the nearest kebab place in the middle of a winter night, the Green Vespa was the obvious choice.
Mmmm...Who would've thought that some spicy garlic cheese fries could taste so good?